Leonardo da Vinci's organ
Source: Leonardo da Vinci's Madrid Codices I + II, fl. 76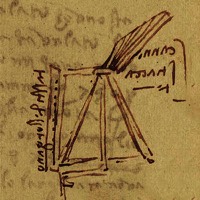 The Madrid Codices I+II are two manuscripts by
Leonardo da Vinci, discovered in Madrid in 1964, showing the sketch of a portable organ which may be considered revolutionary if compared to normal medieval organetti.
To our knowledge, for the first time Leonardo designed a "double action bellows" to guarantee the so-called
"ventum continuum"; he introduced an upright
keyboard (similar to the modern accordeon); he wrote "canne di legno o di carta" (paper o wooden pipes), typically used for small Renaissance camera or chapel organs. The strange arrangement of the pipes has been interpreted for the first time by Walter Chinaglia as an effect of perspective, thus offering a solution to fit many pipes into a small space.
After over eight years of intense studies of iconographies, repertoire, building and playing techniques, Walter Chinaglia and the internationally recognized organetto player
Guillermo Pérez
succeeded in developing a perfect interpretation of Leonardo's portable organ.
Guillermo Pérez performed with Leonardo's organetto at some of the most prestigious European festivals and venues:
Delft - Utrecht Early Music Season (Netherlands) 6.02.13
Ammerzoden - Utrecht Early Music Season (Netherlands) 7.02.13
Utrecht - Utrecht Early Music Season (Netherlands) 8.02.13
Amsterdam - Utrecht Early Music Season (Netherlands) 9.02.13
Amerongen - Utrecht Early Music Season (Netherlands) 10.02.13
Moscow - Festival La Renaissance (Russia) 30.06.13
Köln - WDR (Germany) 19.04.13
Moro de doglia - Aymè, sospiri (Anon. Petrucci, Frottole)
"Da Vinci Project" Live recording, concert in Köln - WDR Early Music Series
Guillermo Pérez, organetto da Vinci
Angélique Mauillon, harp
Viva Biancaluna Biffi, fiddle