Born in Barcelona in 1980, Guillermo Pérez is a conductor, researcher and an internationally recognized organetto player developing an intense career in the field of Early Music. With his ensemble Tasto Solo, he explores since 2006 the late-Medieval and early Renaissance keyboard repertoires. He creates innovative and refined programs, with astonishing sonorities, which the group performs regularly in most part of top European festivals and concerts venues. The two Tasto Solo's CD, "Meyster ob allen Meystern" (2009) and "Le chant de leschiquier" (2015), have been acclaimed by audiences and the specialized press, receiving a large number of prizes and awards (Diapasons d'Or, 4/4 Classica Magazine, Supersonic-Pizzicato, Grossartig from KulturRadio, Excepcional-Scherzo, Coup de Coeur-France Musique, Dischi del Mese-Amadeus, Excellente-Ritmo…).
Guillermo Pérez works also as a member of prestigious ensembles including Mala Punica, Micrologus, J. Savall & Hespèrion XXI, The Unicorn Ensemble, Diabolus in Musica, ClubMediéval, Angélique Mauillon and Viva Biancaluna Biffi, Luca Pianca and Margret Koell. With these groups he made several recordings for Aeon, Alia-Vox, Musica Ficta, Naïve, Passacaille, Pneuma, Raum-Klang, Ricercar and Zig-Zag Territoires labels.
Guillermo Pérez is very committed to medieval music and organetto education. Between 2010 and 2013 he organized the "International Cursus of Medieval Music" at the Centre Itinérant de Recherche sur les Musiques Anciennes (CIRMA) directed by Marcel Pérès in Moissac. From 2011 to 2015 he has been a guest teacher at the Centro Studi Europeo di Musica Medievale "Adolfo Broegg" in Spello, Italy. Between 2013 and 2016 he has taught medieval music at Toulouse Le Mirail University. He also lectures and offers workshops at main institutions including Wien, Moscow and Orsay Conservatoires, the Schola Cantorum Basiliensis, the Academia de Órgano Julián de la Orden, The Grieg Academy University of Bergen and the Essen Folkwang Universität der Künste.
At present, Guillermo Pérez has joined the Early Music Department of Girona's Conservatory (Spain) to develop a new project on Ars Nova music. As a soloist with his organetto and leading Tasto Solo he presents new programs with repertoires from the 14th to the early 16th centuries. With the Italian organ maker Walter Chinaglia, he researches and reconstructs medieval and early Renaissance organetti and organ models.
www.organetto.es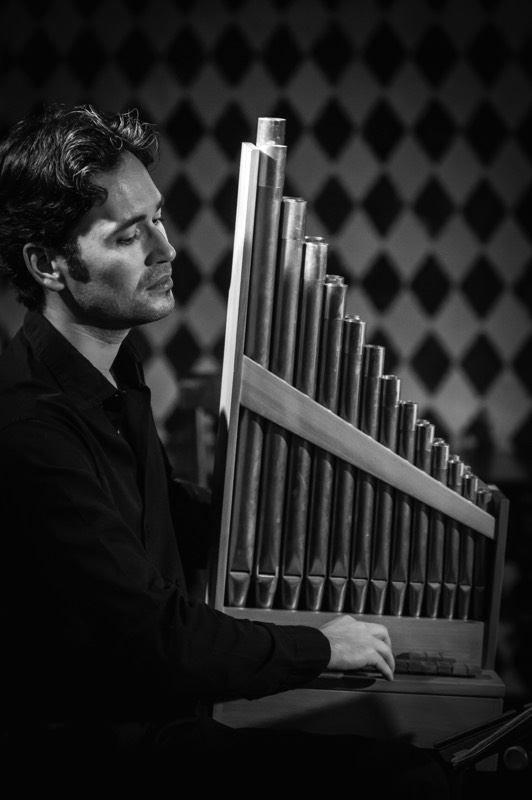 Guillermo's contribution has been fundamental to the development of many of the instruments of the
Organa collection
.
Only a long and intense cooperation between him and Walter Chinaglia and their united knowledge and research made the accurate reconstruction of medieval and early Renaissance organs and organetti possible.
CD "Meyster ob allen Meystern"
Passacaille & Musica Vera

Guillermo Perez, Organetto
David Catalunya, Clavisimbalum
Andres Alberto Gomez, Gothic organ
Reinhild Waldek, Gothic harp
Direction: Guillermo Pérez