After obtaining his degree in Physics in 1996 and five years of research in non-linear optics at the University of Insubria, Walter Chinaglia decided to follow his passion for music and opened his workshop Organa.
He drafts, designs, builds and restores pipe organs, harpsichords and claviorgans using traditional materials and techniques. Driven by his spirit of research he conceives every single instrument based on numerous historical sources, detailed designs and constant confrontation with musicians.
Walter Chinaglia's instruments are highly appreciated for their sound, technical qualities and beauty.
Some of his most relevant work:
Claviorganum with pedal bellow system (2001)
Positive baroque organ in spanish style for the Pamplona Cathedral (2008)
"Organo di legno rinascimentale" with open wooden pipes only, based on a specific research on the physical phenomena involved to recreate the "principale sound" in wooden pipes (2009), now based in the UK
"Organo di Leonardo da Vinci", a new interpretation of the sketch by Leonardo da Vinci, Folio 75r, Madrid Codices II (2012)
two gothic organs based on the painting of Hugo van der Goes (2012)
over 50 portative organs, 14th and 15th centuries
He designed and built several continuo organs used for many CD recordings, festivals and concerts. One of them is situated at the Department of Early Music of University "La Sorbonne", Paris.
Walter Chinaglia is official luthier of the Faculty of the
"International Course on Medieval Music Performance"
in Besalù (Spain).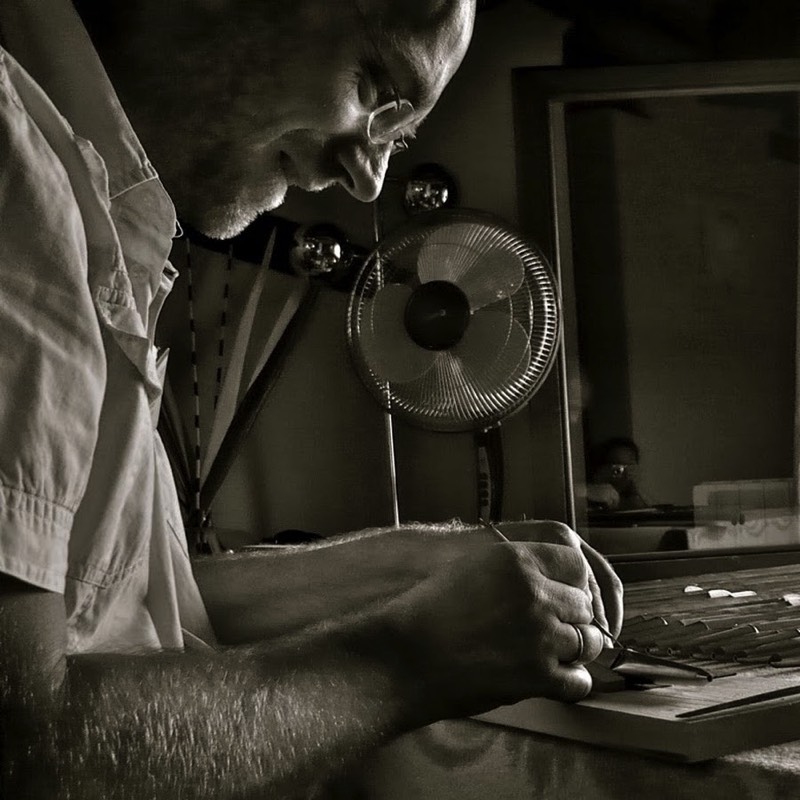 From 2005 to 2008 he was assistant professor of "historical temperaments and tuning tecniques" at the "Conservatorio di Musica Giuseppe Verdi", a superior institute of musical studies in Como.
In 2017 Walter Chinaglia conducted the research project titled
"Duoi Organi per Monteverdi"
, resulting in the construction of two small Renaissance-style organs with open wooden pipes.
An article about this project was published in the magazine
"La Tribune de l'Orgue"
(Dec. 2018)
In summer 2018 he participated as visiting fellow at the project "Building of a new organo di legno" within the research group "Materiality of musical instruments" headed by Dr. Rebecca Wolf, at the Deutsches Museum of Munich.
In 2019, Walter Chinaglia received the affiliation to the Centre for Cultural Heritage Studies, University of Insubria, Como.
Walter has built many instruments for important ensembles and schools, such as:
Tasto Solo - Guillermo Perez, FR
Magister Petrus, ES
La Reverdie, IT
Capella Bambergensis, DE
Camerata Aboensis, FIN
Viaartis, DK
In Illo Tempore, CH
Laterna Magica, RU
ArtePsalentes, ES
Artefactum, ES
Schola Cantorum Basiliensis, CH
Civiche scuole di Musica di Milano, IT
Haute école de musique de Genève, CH
He has given lectures at many international symposiums:
Moissac (CIRMA, M. Péréz), FR (Apr. 2012)
Spello PG (centro studi A. Broegg), IT (Jul. 2012)
Amsterdam (International Symposium on Medieval Organs), NL (June 2012)
Università terzà età Varese, IT (Mar. 2013)
Rhede EMS (Symposium on gothic organs), DE (Sept. 2012)
Besalù (International Course on Medieval Music Performance), ES (Jul. 2013, Jul. 2015)
Academia de Órgano Julián de la Orden, Cuenca, ES (Sept. 2013)
Pamplona, ES (Aug. 2013)
Ticino (masterclass ATO), CH (Sept. 2013)
Academia de Órgano Julián de la Orden, ES (Sept. 2013)
University of Wuerzburg, DE (Oct. 2013)
Fondazione Accademia di Musica Italiana Per Organo Pistoia, IT (Sept. 2014)
Bologna c/o "Collezione Tagliavini", IT (May 2015)
Tribune de l'Orgue 12/2018, Guy Bovet (french)
Read article
Amadeus 9/2018, Massimo Rolando Zegna (italian)
Read article
Arte Organaria e Organistica 1/2017, Bruno Silini (italian)
Read article
Eco di Bergamo, Alessandro Bottelli
August 2017 (italian)
Read article
La Provincia, Stefano Lamon
April 2013 (italian)
Read article
La Provincia, Stefano Lamon
August 2012 (italian)
Read article
Dismamusica, Cristiano Cameroni "Questione di Fisica" (italian)
Read article
Concordia, Angelo Porro
"L'Organaro" (italian)
Read article
David Rumsey, organist and expert on medieval organ culture about the Chest organ with principal.
Magazine "The Diapason":
Read article
Andrew Benson Wilson, organ recitalist, concert and organ CD reviewer for early music and organ magazines, about the Chest organ with principal:
"Regensburg Tage Alter Musik 2017"
Read article
(scroll to June 3 pragraph)
Andrew Benson Wilson, organ recitalist, concert and organ CD reviewer for early music and organ magazines, about the Chest organ with principal:
"Echoes of Venice"
Read article

GIOVANNI CROCE:
MOTETTI & SACRAE CANTIONES
ARCANA / Outhere Music 2017
Concerto Scirocco & Voces Suaves


STEFANO BERNARDI:
Lux Æterna - ein Salzburger Requiem
ARCANA / Outhere Music 2019
Concerto Scirocco & Voces Suaves

PAOLO DA FIRENZE:
AMOR, TU SOLO'L SAI
Ballate e Madrigali
ClubMediéval, Thomas Baeté
AllMusic


ARMONIA ECCLESIASTICA
Tactus TC 621801, Sisto Reina
Opera Quinta, 1653
Concentus Vocum
Michelangelo Gabbrielli

CLUBMEDIÉVAL
Musica Ficta
Thomas Baeté: Artistic direction
Guillermo Pérez: Organetto and gothic organ

TESORI DI NAPOLI
Hänssler Classic
Luca Quintavalle: Harpsichord
Daniel Rothert: Recorder

LA MUSICA DEL GIUBILEO
Classic Voice Antiqua
Giovanni Acciai, Ivana Valotti, Nova ars cantandi
Chest organ with Principal

G.F. HÄNDEL: MICROCOSM CONCERTO
Glossa Music
Mara Galassi: Harp
Antonio Togni: Organ, Harpsichord, Fortepiano

IL GIARDINO ARMONICO & JULIA LEZHNEVA - HÄNDEL
Decca

LA VOCE DEL VIOLINO
Imaginarium - Enrico Onofri
Zig Zag Territories

© ORGANA di Walter Chinaglia
Via Montebello 10, 22072 Cermenate (CO) Italy, tel/fax +39 031 772776, mob. + 39 340 966 78 03
walter.chinaglia@gmail.com