Cristina Alís Raurich is a historical keyboard player, researcher, and medieval music specialist born in Mataró—a town near Barcelona. She first studied piano with Irina Pochekina and Stanislav Pochekin at the Conservatori del Liceu, and completed a master's degree at the Escola Luthier d'Arts Musicals (Barcelona) with the pianist Gennady Dzubenko.
At the same time she studied historical organ with Josep M. Mas i Bonet, Wijnand van de Pol and José Luis Gonzalez Uriol, focusing on the Spanish organ repertoire. After that she moved to the Netherlands to study with Prof. Naum Grubert at the Koninklijk Conservatorium (The Hague, The Netherlands).
Her interest in medieval music prompted her to enter the Schola Cantorum Basiliensis (Basel, Switzerland) where she completed a Master's degree in Medieval and Renaissance keyboard instruments (clavicimbalum, clavicytherium, hammered clavicimbalum and organetto), studying with Corina Marti and privately with Christophe Deslignes. Cristina is a member of the groups such as "Magister Petrus" directed by Dr. Mauricio Molina, "Le Souvenir" and "Hamelin Consort", which was awarded the Förderpreis für Alte Musik in 2012 (Saarbrücken, Germany).
With these groups and as a soloist she has performed in Spain, The Netherlands, Belgium, France, Germany, Lithuania, Italy, Poland and Switzerland, and has lectured and taught courses in places such as The Hague's Conservatorium and the Conservatori de Girona.
Cristina is assistant director and faculty member of the International Course on Medieval Music Performance (12th-14th centuries) of Besalú (Catalonia). Some of her projects include performing on various reconstructed medieval organs across Europe (instruments by Walter Chinaglia), and the researching and publishing of hitherto little known medieval keyboard music.
Cristina Alís Raurich is Visiting Scholar (Performer) at the Centre International de Musiques Médiévales. Du ciel aux marges; the Université Paul-Valéry – Montpellier 3, and the Conservatoire à Rayonnement Régional de Montpellier Méditerranée Métropole.
Recently she was accepted into a Doctoral Program at the University of Würzburg (Germany) / Schola Cantorum Basiliensis (Switzerland).
As a pianist she debuted with Mozart Concerto in A Major K.414 with the Orquestra de Girona, and won two first-prize awards in international competitions. Cristina had taught piano at the Conservatory of Girona (Catalonia).
www.cristinaraurich.cat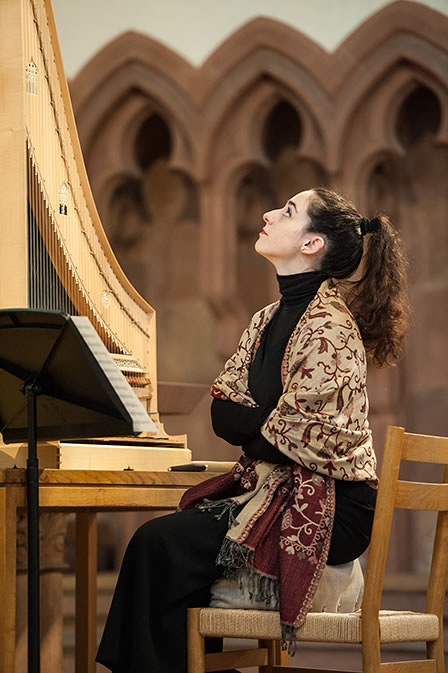 Thanks to Cristina Alís Raurich's intensive and philological research done in cooperation with Walter Chinaglia, he was given the possibility to develop and build - for the first time - a portative organ with copper pipes, specific for the music of the 13th century.
Within the
Organa Collection
, Cristina is specialised in all portative organs, the Medieval and Gothic table organ.
Perotinus: Alleluya Nativitas (Fragment)
Montpellier, Bibliothèque Interuniversitaire, Section Médecine H196, f. 9r-v (late 13th century)